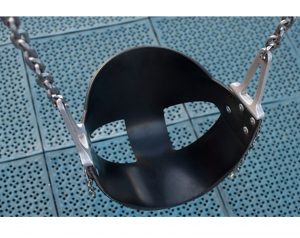 Swing Seats
PROUDLY MANUFACTURED IN NEW ZEALAND AND CERTIFIED TO NEW ZEALAND PLAYGROUND STANDARDS NZS 5828: 2004
For the last 10 years rubberbits have been supplying our Trademark swings to Playgrounds, Parks and Reserves, Recreation centres, Schools, Kindergartens, Childcare Centres & City Councils all over New Zealand.
We manufacture Strap swing seats suitable for older kids and Fully & Semi enclosed toddler and infant swing seats for babies and younger kids. All swings are produced from 2-3 ply reinforced rubber with a single pc aluminium bracket which also makes vandalizing more difficult.
All our models are designed keeping the highest standards of safety, comfort and durability in mind.
Half Enclosed
Toddler Swing Seat
Heavy duty and durable toddler swing seat with safety link chain covered with EPDM rubber and adjustable restrainer. The seat is comfortable with a soft edge to absorb impact and made with 2 ply tear resistant rubber. Suitable for Commercial or Residential Playgrounds. This is a popular seat with Kindergartens and Early Learning & Childcare Centres.